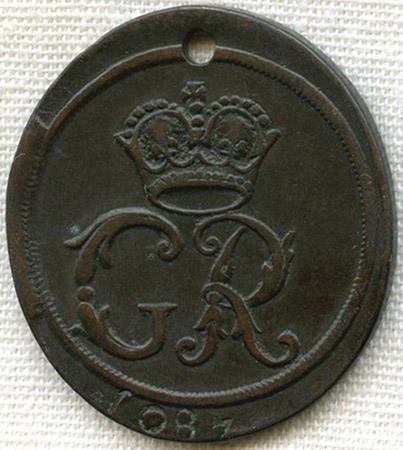 ARTIFACT: This is a 1737 pass coin for the private roads of George II, King of England. Originally joining Hampton Court to St. James' Palace, the King's Private Road dates from circa 1630. It was later to take a more direct route through fields and gardens, remaining largely private until late in 1829. Due to issues of disrepair and locked gates, the tenants and landowners in proximity to the King's Road petitioned for guaranteed access around 1722. Some repairs were done to the road around 1723 and to offset construction costs and fees paid to commissioned gatekeepers, pass coins were instituted as a way to make revenue. The front of the oval coin bears George II's cipher (the letters GR for George Rex) beneath a crown and is stamped with the number 1087. The reverse of the coin reads THE KINGS PRIVATE ROADS 17(JR)37.
VINTAGE: Circa 1737.
SIZE: Approximately 1-3/8" in height and 1-1/4" in width.
CONSTRUCTION/MATERIALS: Copper with lovely deep chocolate patina.
ATTACHMENT: Pierced hole.
MARKINGS: 1087; JR.
ITEM NOTES: This is from a Great Britain collection which we will be listing more of over the next few months. VBEX00 LDEJX7/12 SeEEJX6/16
CONDITION: 7 (Very Fine): Rare in this condition!
GUARANTEE: As with all my items, this piece is guaranteed original.