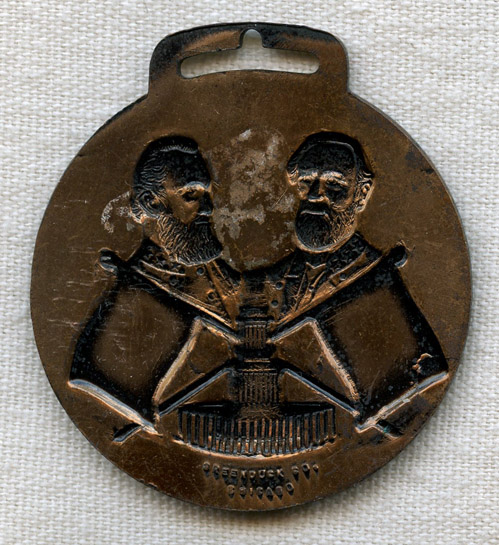 SUBJECT: This is a medal for the 1929 Sons of Confederate Veterans (SCV) reunion, which took place on June 4-7 of that year. The group was formed in 1896 as a reorganization of the United Confederate Veterans (UCV), and is made up of men whose ancestors served for the Confederate States of America.
VINTAGE: Circa 1929.
SIZE: 1-5/8" in diameter with 3/8" loop attachment jutting out.
CONSTRUCTION/MATERIALS: Copper-plated brass with some painted areas.
ATTACHMENT: Rectangular loop attachment.
MARKINGS: GREENDUCK CO. CHICAGO.
ITEM NOTES: This is from a Confederate collection which we will be listing more of over the next few months. VDJX07 LAAEX7/10
CONDITION: 7+ (Very Fine+): Medal has a beautiful patina but some of the paint has worn away.
GUARANTEE: As with all my items, this piece is guaranteed original.