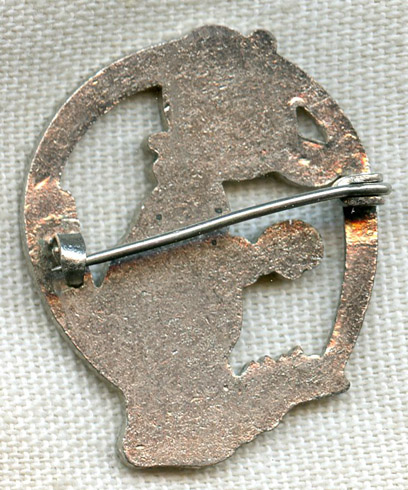 ARTIFACT: This is a great circa 1930s pin of "Eugene the Jeep", a lovable spotted character from Popeye cartoon and comic strip fame. Don't feel badly if you can't figure out exactly what Eugene is: all that is known is that he is a descendant of a "Hooey Hound" who happened into our dimension by mistake. The pin is enameled in vibrant primary colors and shows Eugene framed by a silver horseshoe.
VINTAGE: Circa 1930s-1940s.
SIZE: Approximately 1-3/16" in height and 15/16" in width.
CONSTRUCTION/MATERIALS: Plated brass, enamel.
ATTACHMENT: Horizontal pin with C catch.
MARKINGS: None.
ITEM NOTES: This is from a cartoon collection which we will be listing more of over the next few months. MDXL13 LABEX6/13 SABJX2/17
CONDITION: 7- (Fine-): The pin shows hardly any wear.
GUARANTEE: As with all my items, this piece is guaranteed original.