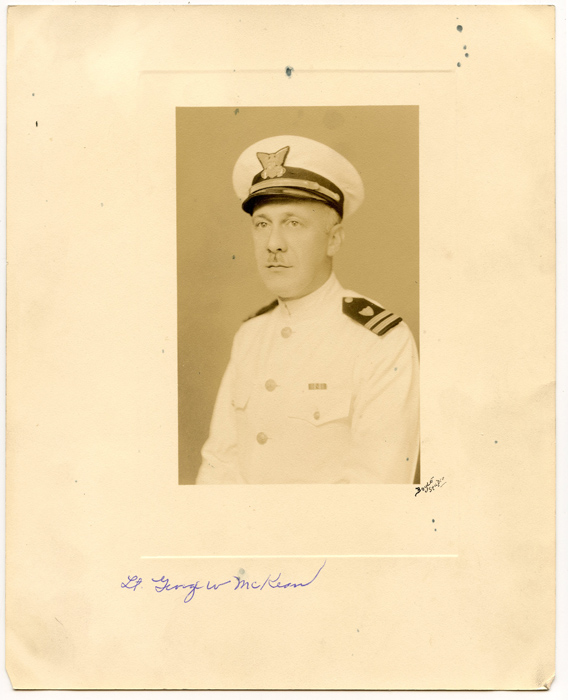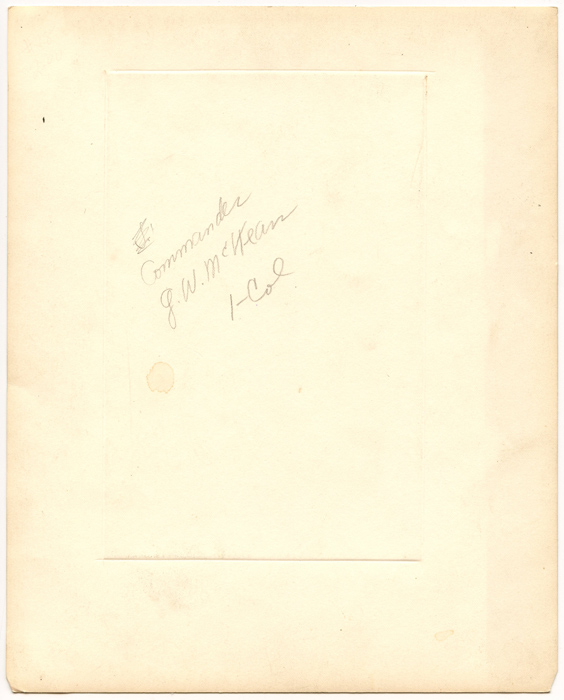 ARTIFACT: This is a studio portrait of Lieutenant (eventual Captain) George W. McKean, United States Coast Guard, taken in either the 1930s or early World War II. McKean was the commander of the USS General M.C. Meigs (AP-116), transporting troops to the European Theatre of Operations. He was awarded the Order of Military Merit at Brazil for transporting Brazilian troops. McKean is pictured wearing his bullion hat badge and World War I Victory medal ribbon.
VINTAGE: Circa 1930s – early World War II.
SIZE: Approximately 9-7/8" by 7-7/8".
CONSTRUCTION/MATERIALS: Photograph, matting.
ATTACHMENT: None.
MARKINGS: Boyle Studio; Lt. George W. McKean handwritten on front of matting; Commander G.W. McKean l-Col written on reverse.
ITEM NOTES: This is from a United States Coast Guard collection which we will be listing more of over the next few months. ebay MBX13 LCIX6/13
CONDITION: 7- (Very Fine-): There is overall light aging to the photograph with some small spots of discoloration; there is also some writing on the front and reverse.
GUARANTEE: As with all my items, this piece is guaranteed original.