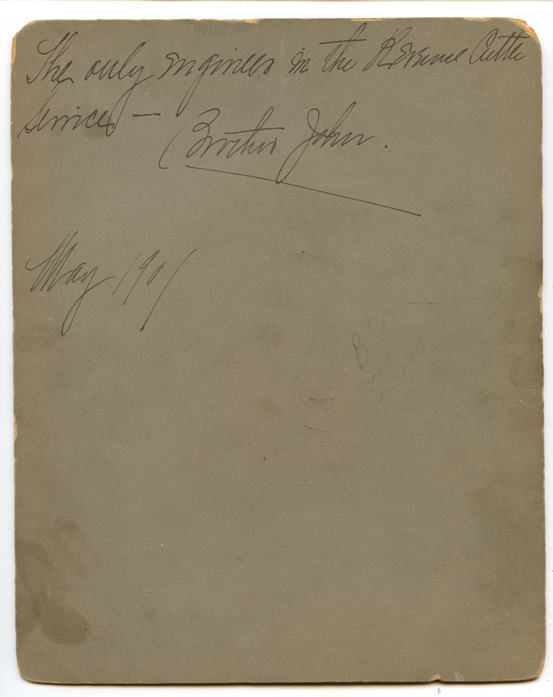 ARTIFACT: This is a 1901 photograph of a member of the United States Revenue Cutter Service, possibly an engineer. The United States Revenue Cutter Service, an early federal agency tasked with enforcing maritime regulations was at one time answerable to the Department of Treasury. It merged with the US Life Saving Service in 1915 to form the United States Coast Guard. The photograph is oval and matted and shows the serviceman from the chest up in a collared jacket with an insignia at the throat. The back of the photograph is signed by "Brother John" and dated May 1901.
VINTAGE: Circa 1901.
SIZE: 8" x 10" photograph.
CONSTRUCTION/MATERIALS: Photograph mounted on paperboard.
ATTACHMENT: None.
MARKINGS: PERKINS BALTIMORE stamped on matting; THE ONLY ENGINEER IN THE REVENUE CUTTER SERVICE - BROTHER JOHN MAY 1901 handwritten on reverse.
ITEM NOTES: This is from an early United States Coast Guard collection which we will be listing more of over the next few months. ebay VFEX06 LAIEX8/10
CONDITION: 8- (Very Fine-Excellent): Photograph has been well preserved with some slight damage to one corner.
GUARANTEE: As with all my items, this piece is guaranteed original.