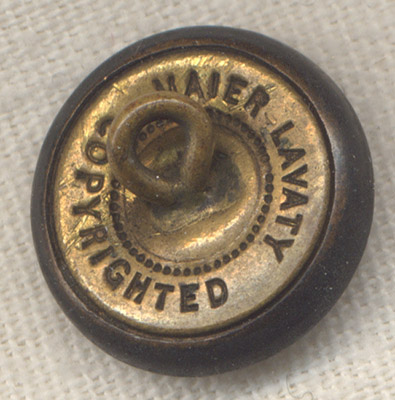 ARTIFACT: Rare 1910ís-20ís Greyhound Lines bus driver's enameled hat button. The center of the red and blue enameled button shows a greyhound in full sprint in nice raised detail and surrounding him, the blue enamel ring reads: "GREYHOUND LINES".
VINTAGE: Circa 1910's - 1920's.
SIZE: About 5/8" in diameter.
CONSTRUCTION/MATERIALS: Plated brass with blue and red enamel.
ATTACHMENT: Loop for sewing onto garment.
MARKINGS: MAIER LAVATY COPYRIGHTED.
ITEM NOTES: This is from a large bus & taxi collection which we will be listing more of over the next few months. REL95 LBEX SLFJX2/16
CONDITION: 6 (Fine+): The button shows moderate wear, much of the enamel detail remains intact.
GUARANTEE: As with all my items, this piece is guaranteed original.