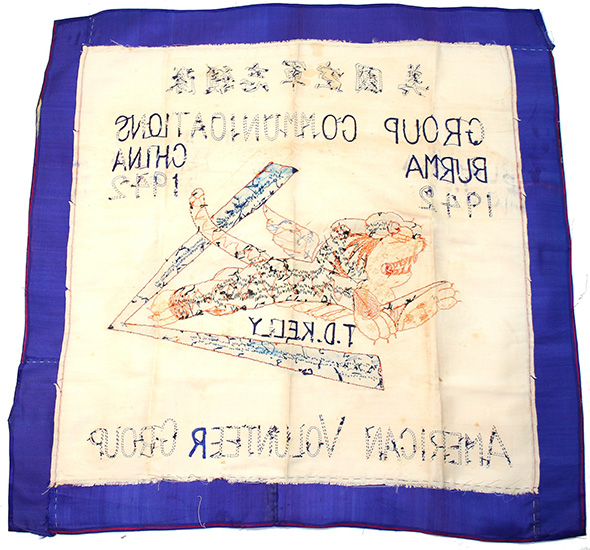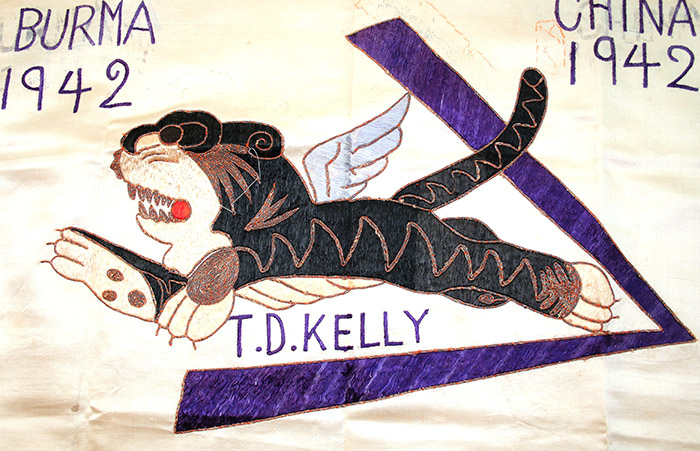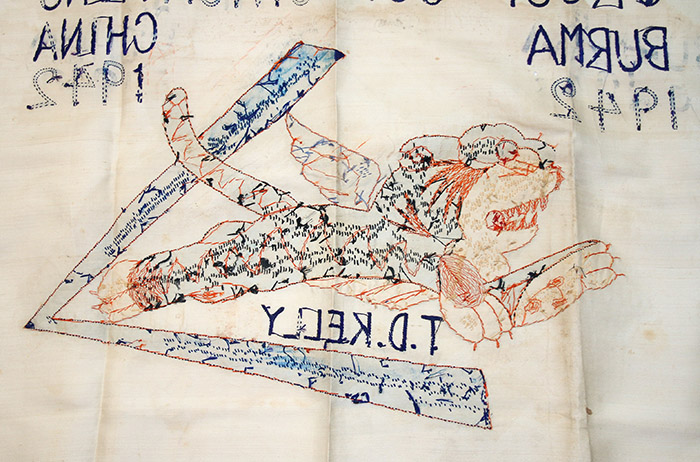 ARTIFACT: This is an extremely rare and highly sought after Large Size American Volunteer Group Personal Banner. It was made for Group Communications Officer Thomas D. Kelly, who operated as a Lineman for the AVG. Many AVG members purchased one of these large banners as a souvenir of their service with the Chinese Air Force fighting against the Japanese in the early days of WWII. The banner is beautifully hand embroidered in silk & tinsel type bullion on silk. This type of banner is quite large and has quite a presence when displayed framed up on one's wall. This piece is already dramatically framed, but can be shipped unframed to save on shipping costs if desired.
Artifacts that belonged to members of the original Flying Tigers are extremely hard to acquire and rarely come up for sale. Often collectors lucky enough to acquire anything from the AVG will hold onto the pieces for their entire lifetime and families rarely let these artifacts go if they are lucky enough to still possess them. Don't miss this chance to own a true piece of WWII Aviation History.
VINTAGE: Circa Early World War II (1942).
SIZE: Banner: Approximately 32" in height and 32" in width, framed approximately 35" x 35".
CONSTRUCTION/MATERIALS: Silk and tinsel bullion embroidered on silk.
ATTACHMENT: None.
MARKINGS: None.
ITEM NOTES: This is from a collection of Flying Tigers artifacts that we here at Flying Tiger Antiques have been commissioned to sell. We will be listing more over the coming weeks. CON-AVG-18-14 LAGIGEX11/14 SLACIGEX11/15 S(S)VEJJJX3/17
CONDITION: 8 (excellent-) : The banner has some light water staining as appears to be typical for the Communications Section Banners, but the stains do not detract too much from this museum-grade artifact, which otherwise is in excellent condition with only one small hole.
GUARANTEE: As with all my items, this piece is guaranteed original.