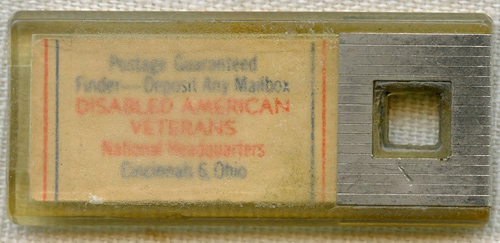 ARTIFACT: This is a circa 1950 New Hampshire DAV tag, which is a small key tag in the shape of an automobile license plate made by the Disabled Veterans of America. Starting during World War II, the DAV sold these tags (also known as "IdentoTags") to auto owners to raise funds. The address on reverse of the tag would ensure delivery of the keys to the DAV, and in turn, to the owners. This tag is numbered RK 32.
VINTAGE: Circa 1950.
SIZE: Approximately 11/16" in height and 1-5/8" in width.
CONSTRUCTION/MATERIALS: Paper, celluloid, metal.
ATTACHMENT: Square hole.
MARKINGS: POSTAGE GUARANTEED FINDER DEPOSIT ANY MAILBOX DISABLED AMERICAN VETERANS NATIONAL HEADQUARTERS CINCINNATIb6 OHIO.
ITEM NOTES: This is from an automobile collection which we will be listing more of over the next few months. VAX93 LAEX9/12
CONDITION: 7 (Very Fine): The tag has some light wear and yellowing.
GUARANTEE: As with all my items, this piece is guaranteed original.