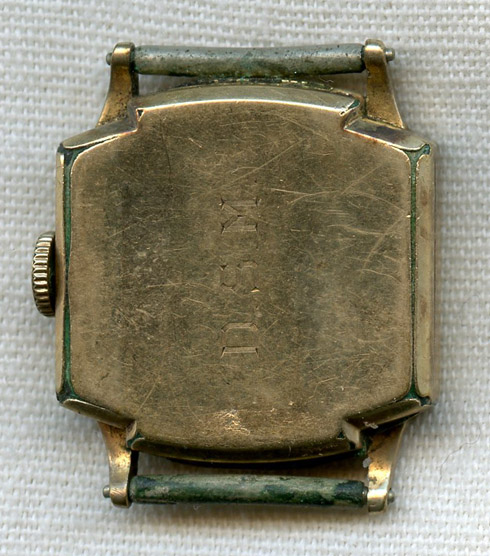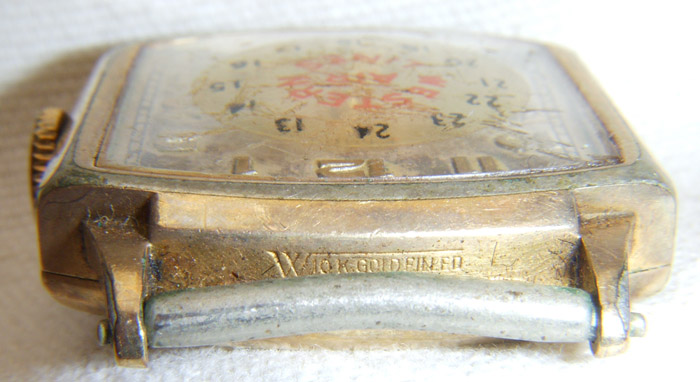 SUBJECT: This is a gold-filled Western Air Lines watch with the initials D.S.M. engraved on its reverse. The square glass face has black painted numbers representing military time overlaying the numbers 1-12 and WESTERN AIR LINES painted in red. There is a second hand as well.
VINTAGE: Circa unknown.
SIZE: Approximately 1-1/4" in height and 1-1/16" in width and 1/4" in depth.
CONSTRUCTION/MATERIALS: Gold-filled, brass, glass.
ATTACHMENT: Two rectangular slits for strap (no strap included), hinges.
MARKINGS: W maker's mark and 10K GOLD-FILLED on side and D.S.M. on reverse.
ITEM NOTES: This is from an airlines collection which we will be listing more of over the next few months. RONCJX5/96 LCIEX11/10
CONDITION: 6+ (Fine-Very Fine): Watch shows some small spots of medium wear and tarnish; watch does not keep time.
GUARANTEE: As with all my items, this piece is guaranteed original.