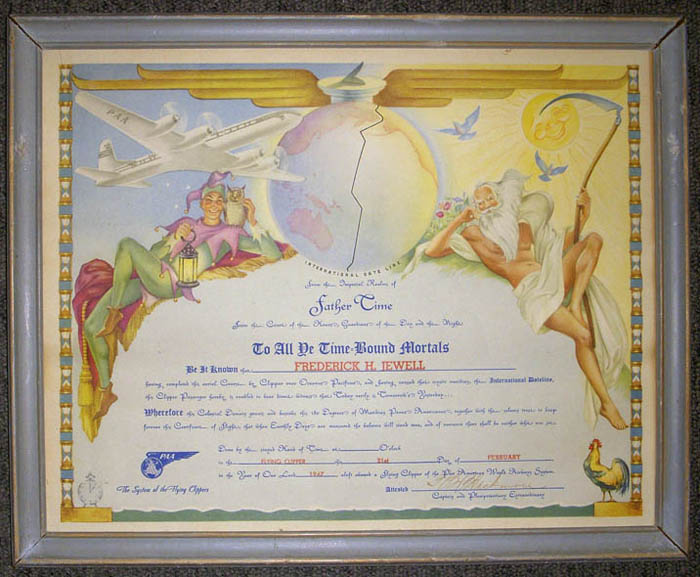 ARTIFACT: This is a 1947 Pan Am Airways certificate signed by aviation pioneer Gilbert "Gib" Bynum Blackmore. Blackmore, piloting with Pan Am for three decades, flew the Dixie Clipper carrying the first-ever passengers in a transatlantic flight in 1939. Born a Hoosier, Blackmore served in the United States Navy and continued to be on the cutting edge of aviation his whole life, and became acquaintances with Charles Lindbergh. "Gib" died in 1997 at the age of 93. The certificate was issued to Frederick H. Jewell for crossing the International Date Line, and is fantastically colored and illustrated with a jester and Father Time sharing the limelight. The certificate is displayed for the photos in a frame with wear and missing glass but can be shipped without the frame.
VINTAGE: Circa 1947.
SIZE: Approximately 10-1/2" in height by 13-1/2" in width.
CONSTRUCTION/MATERIALS: Printed paper.
ATTACHMENT: Wire hanger on (optional) frame.
MARKINGS: Signature of "Gib" Blackmore.
ITEM NOTES: This is from an airline collection which we will be listing more of over the next few months. VAJX92 LAGEX5/12 SAGEX7/14
CONDITION: 9 (Excellent-Near Mint): The certificate is in excellent condition (frame has wear and missing glass and the certificate can be shipped without it).
GUARANTEE: As with all my items, this piece is guaranteed original.