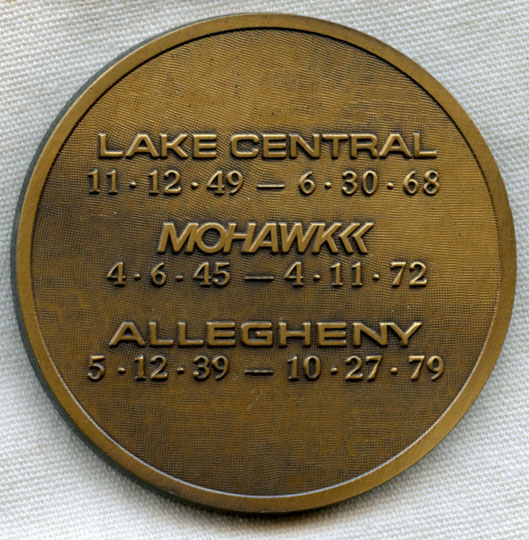 ARTIFACT: This is a circa 1979 bronze table medal for US Air commemorating the founding of the company. The reverse of the medal traces the lineage of US Air: US Air was the direct reincarnation of Allegheny Airlines, which had previously absorbed both Mohawk Airlines and Lake Central.
VINTAGE: Circa 1979.
SIZE: Approximately 2-1/2" in diameter and 3/16" in thickness.
CONSTRUCTION/MATERIALS: Bronze.
ATTACHMENT: None.
MARKINGS: None.
ITEM NOTES: This is from an airline collection which we will be listing more of over the next few months. VAX13 LFJX4/13 SFJX7/16
CONDITION: 8- (Very Fine-Excellent): The medal has only some light wear and tarnish, mostly on reverse.
GUARANTEE: As with all my items, this piece is guaranteed original.