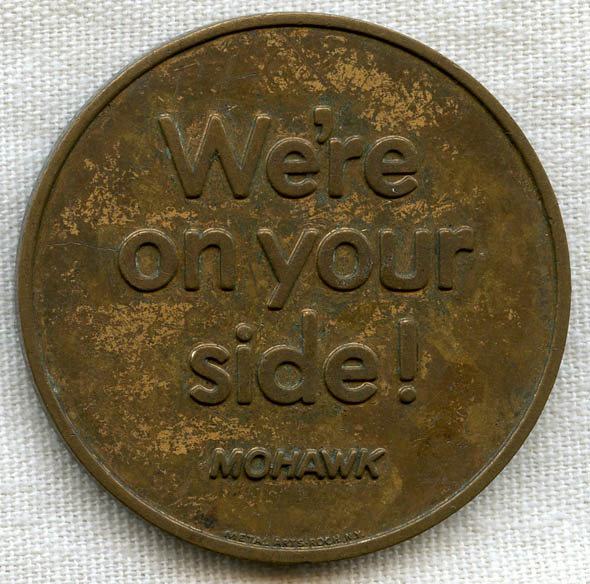 ARTIFACT: This is a late 1960's medallion for Mohawk Airlines by Metal Arts. Begun as Robinson Airlines, the company had a name change to Mohawk in 1952, and was later absorbed into Allegheny Airlines in 1972. The medallion reads MOHAWK AIRLINES GOLD CHIP SERVICE on one side and shows the profiles of three employees in relief. The reverse side reads WE'RE ON YOUR SIDE! MOHAWK.
VINTAGE: Circa late 1960's.
SIZE: Approximately 1-3/4" in diameter and 1/8" in thickness.
CONSTRUCTION/MATERIALS: Bronze/brass.
ATTACHMENT: None.
MARKINGS: METAL-ARTS ROCH. N.Y.
ITEM NOTES: This is from an airlines collection which we will be listing more of over the next few months. ebay RONVAEX6/96 LGEX6/11
CONDITION: 7- (Very Fine-): The medallion shows some light to medium wear and tarnish with some small spots of light oxidation.
GUARANTEE: As with all my items, this piece is guaranteed original.