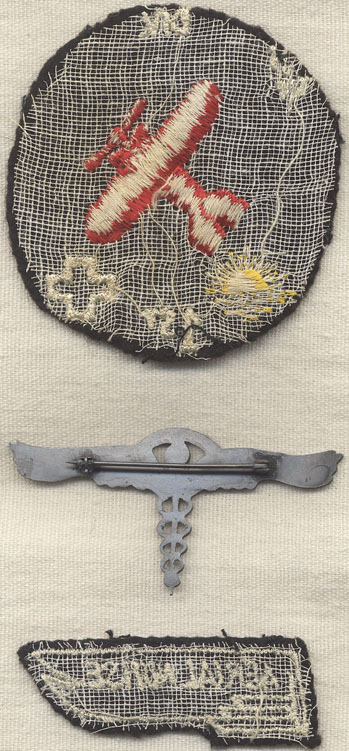 ARTIFACT: This is a very rare late 1930ís Aerial Nurse Corps of America wing, patch and hat insignia. The hat badge shows a caduceus and reads AERIAL NURSE CORPS OF AMERICA. The uniform wing reads AERIAL NURSE and the patch shows a plane and a cross over the sunset and reads 1st DIV. After witnessing an altitude test in Dayton, Ohio Lauretta Schimmoler became fascinated with aviation and began working for the US Air Mail and Lockheed Aircraft. In 1929, she received her pilotís license and shortly after being hired as an advertising manager for an airport in Sycamore, Ohio, she convinced her boss to relocate to Bucyrus and in doing so became the first women to establish and manage an airport. In 1932, she became part of the Ninety-Nines: International Organization of Women Pilots. After witnessing the destruction of a tornado she realized the importance of air evacuation and established the Emergency Flight Corps in 1933, which became the Aerial Nurse Corps in 1936 with 78 nurses. During WWII, both the American Red Cross and US Army changed their opinions of aerial nurses and their importance. A medical air evacuation squadron was formed and Loretta was asked to become the technical advisor. The Aerial Nurse Corps was only active for 15 years, but it became an early model and pioneer for USAF Flight Corps Nurses, still in existence today.
VINTAGE: Circa 1936 - 40
SIZE: Items are various sizes; Hat badge 2-1/2Ē in length (fill in the rest if this is there with you. If it is, it will be on the USAAF shelves in a small Riker).
CONSTRUCTION/MATERIALS: Hat badge: silver-plated brass with black enamel; patch and wing: felt, embroidered with cotton/silk threads.
ATTACHMENT: Hat badge has a horizontal pin with a drop-in swivel catch. Wing and patch are to be sewn on.
MARKINGS: N/A.
ITEM NOTES: This is from a Military Nursing collection which we will be listing more of over the next few months. ebay MEJJX06 LBBGEX3/10
CONDITION: 8+ (Excellent): Wing has very light wear and tarnishing.
GUARANTEE: As with all my items, this piece is guaranteed original.