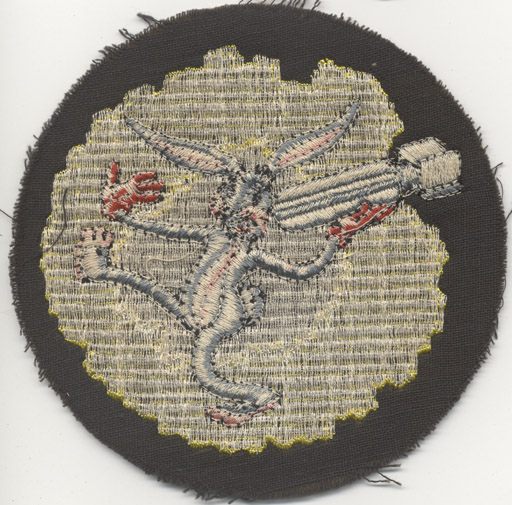 ARTIFACT: This is a World War II jacket patch for the United States 486th Bomb Squadron, 340th Bomb Group, 9th and 12th Air Forces. The 486th Bombardment Squadron (Medium) was created in 1942 and flew B-25 Mitchell bombers. The squadron served in Egypt and the Caribbean, as well as the Mediterranean Theater, playing a part in the liberation of Corsica. The squadron was inactivated subsequent to the Japanese surrender. The patch is round and shows Bugs Bunny at center about to hurl a bomb.
VINTAGE: Circa World War II.
SIZE: Approximately 5" in diameter.
CONSTRUCTION/MATERIALS: Felt patch with embroidery in multi-colored cotton thread with muslin backing.
ATTACHMENT: None.
MARKINGS: None.
ITEM NOTES: This is from a United States Army Air Forces collection which we will be listing more of over the next few months. TRGEX09 LHEJX
CONDITION: 9 (Excellent-Near Mint): The patch is in excellent condition.
GUARANTEE: As with all my items, this piece is guaranteed original.