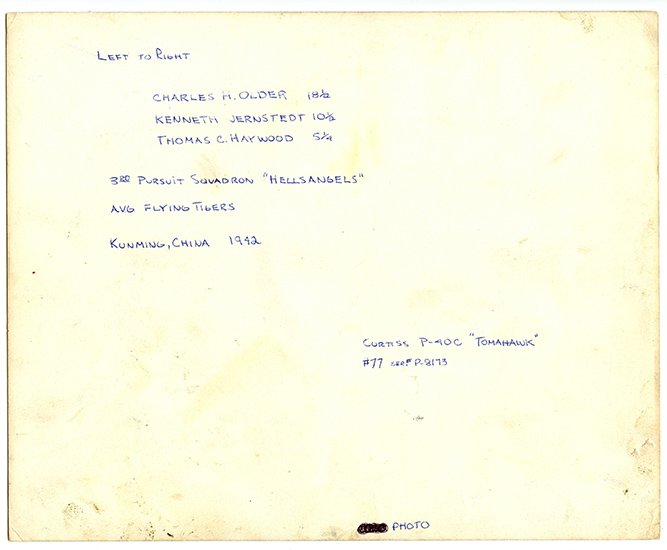 ARTIFACT: This is a great, large (8x10) older (but not WWII period) hand-colored black and white photograph of three 3rd Squadron Aces around the cockpit of a P-40 (one seated in). This was reportedly made sometime in the 1970's. Details slightly fuzzy (from being enlarged), but pilots are wearing flight jackets. 3rd Sq. emblem partially visible on fuselage, and 5 kill flags are plainly visible at center. Pilots in photo are Chuck Older, Ken Jernstedt, & Tom Haywood.
VINTAGE: Circa 1970's copy of a WWII image.
SIZE: 8" x 10"
CONSTRUCTION/MATERIALS: Black and white, hand-colored photograph.
ATTACHMENT: N/A
MARKINGS: Reverse reads: Left to Right
CHARLES H. OLDER 18 ˝
KENNETH JERNSTEDT 10 ˝
THOMAS C. HAYWOOD 5 Ľ
3rd Pursuit Squadron "HELLS ANGELS"
AVG Flying Tigers
Kuming, China 1942
Curtiss P-40C "TOMAHAWK" #77 SER. #P-8173
PHOTO
ITEM NOTES: This is from a collection of Flying Tigers artifacts that we here at Flying Tiger Antiques have been commissioned to sell. We will be listing more over the coming weeks. CON-AVG-PAHX14 LGGEX11/14 SLAGEX9/17
CONDITION: 9- (Excellent+): Minor wear at corners, no bends or tears, age discoloration and tiny spots of soiling reverse.
GUARANTEE: As with all my items, this piece is guaranteed as described.