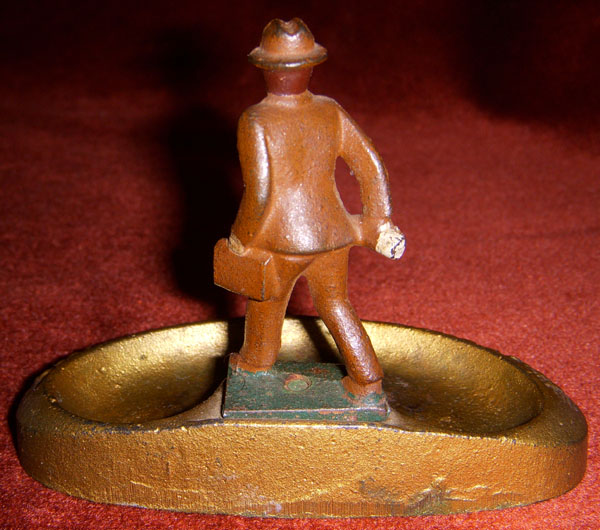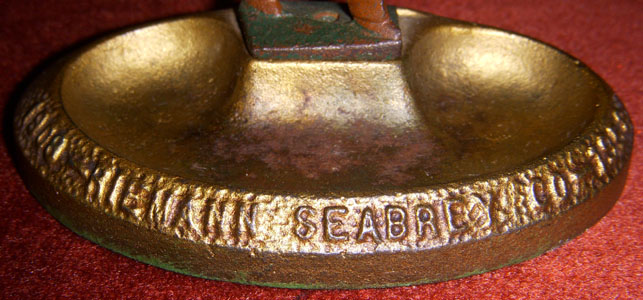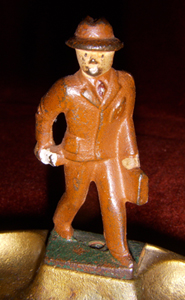 ARTIFACT: This is a circa 1958 cast iron pin or change tray made to mark the 50th anniversary of the Riemann Seabrey Company. Rieman Seabrey was a New York business founded in 1958 that manufactured cast iron toys. The tray has a great painted figurine of a strolling businessman affixed to its base.
VINTAGE: Circa 1958.
SIZE: Approximately 2-7/8" in height and 3-5/8" in width and 1-7/8" in depth.
CONSTRUCTION/MATERIALS: Painted cast iron.
ATTACHMENT: Figure screwed to base.
MARKINGS: None.
ITEM NOTES: This is from an advertising collection which we will be listing more of over the next few months. ebay VBGX13 VHEX2/13 SLFEX8/14 SLIJX5/15 SLEJX4/16
CONDITION: 7 (Very Fine): The tray has some small spots of minor paint loss and tarnishing in the base.
GUARANTEE: As with all my items, this piece is guaranteed original.