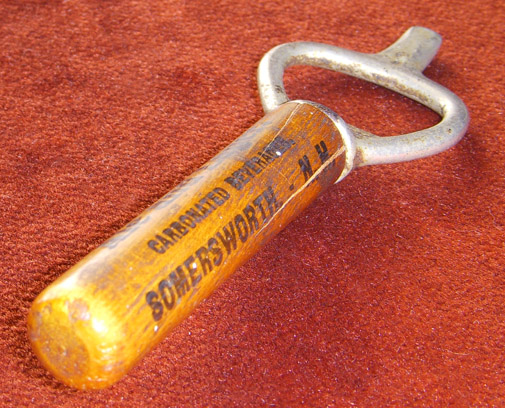 ARTIFACT: This is a rare and great pre-Prohibition (circa 1905) advertising corkscrew or bottle opener for W. Ashton Horn, a Somersworth, New Hampshire bottler and agent for the Portsmouth Brewing Company (aka the Harris and Mathes Co.). Open your ale, lager or pop bottle with a souvenir from the year Portsmouth hosted the Peace Treaty that officially ended the Russo-Japanese War!
VINTAGE: Circa 1905.
SIZE: Approximately 4-1/8" in length and 1-3/8" in width.
CONSTRUCTION/MATERIALS: Wood, nickel-plated brass.
ATTACHMENT: None.
MARKINGS: None.
ITEM NOTES: This is from an old New Hampshire breweriana collection that we will be listing more of over the next few months. ebay CON-RLB-VHX14(6/93) LAFEX4/14 SLABEX4/16
CONDITION: 7- (Very Fine-): The opener has some minor splits in the handle and some small areas of wear/oxidation.
GUARANTEE: As with all my items, this piece is guaranteed original.