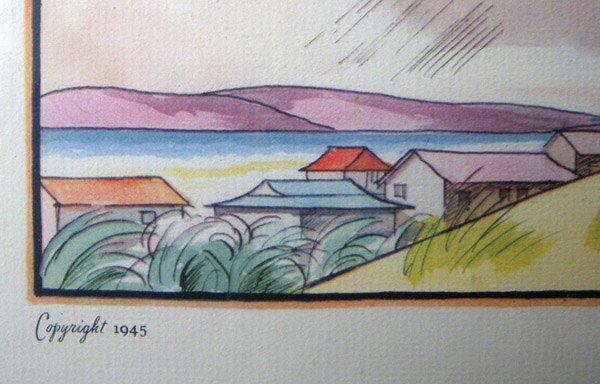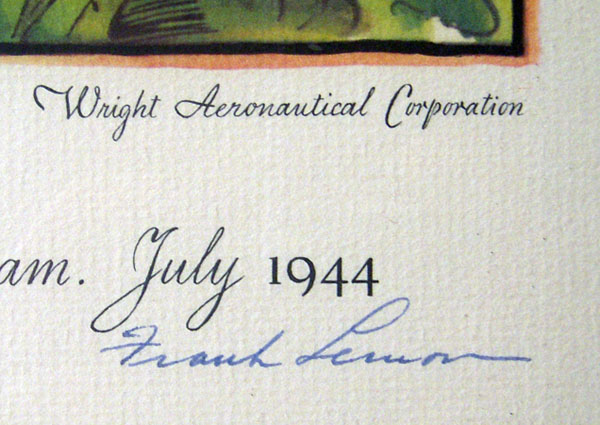 SUBJECT: This is a beautiful World War II print of Helldivers produced for Wright Aeronautical Corporation. The Helldiver was a carrier-based dive bomber made by Curtiss-Wright, initially for the United States Navy. The print is signed by the artist and shows Helldivers making the initial raid on Guam in July, 1944.
VINTAGE: Circa World War II.
SIZE: Approximately 20-7/8" in height by 16-7/8" in width.
CONSTRUCTION/MATERIALS: Photograph mounted on textured cardboard.
ATTACHMENT: Plastic tab.
MARKINGS: COPYRIGHT 1945 WRIGHT AERONAUTICAL CORPORATION; signed FRANK PERRON (?).
ITEM NOTES: This is from an aviation company collection which we will be listing more of over the next few months. VAEX90 LADEX11/11 SADEX5/13
CONDITION: 8- (Very Fine-Excellent): The print shows only minor wear and aging; the plastic wrap on the print has split on a few corners and at the back where the attachment is (photo of hanger above).
GUARANTEE: As with all my items, this piece is guaranteed original.