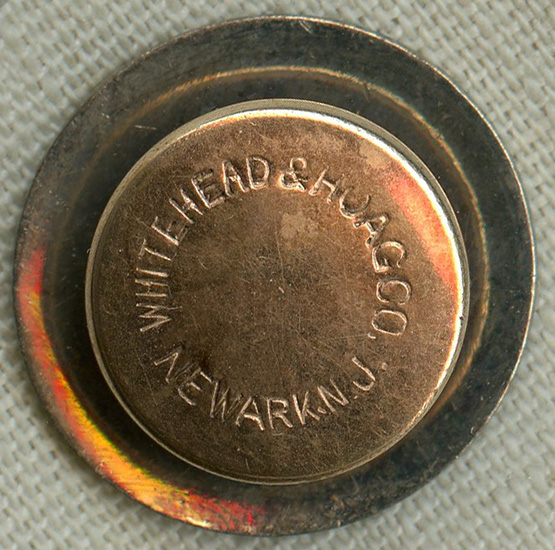 ARTIFACT: Very rare circa 1930 American Motorless Aviation Corporation Cape Cod, Massachusetts Glider School lapel pin by Whitehead & Hoag in Newark, New Jersey. The AMAC in Cape Cod was one of two glider/soaring schools in the country, the other was located near San Diego. Glider pilots were trained to fly the Motorless aircraft relying on wind/air currents and body weight and position for skillful operation. J.C. Penney Jr., was a glider aficionado and once held an invitational in Cape Cod for prominent German gliders as a way to promote 'Soaring' in the United States. Penney established the American Motorless Aviation club to support his passion and interests in aviation. At the end of WWI glider pilots were on the rise, but the use of glider aircraft by Nazi Germany during WWII and the arrival of The Great Depression all but halted its growth. The badge reads: "AMAC" in white lettering and surrounding it reads: "CAPE COD MASS." Against a dark blue background.
NOTE: we had 2 of these, the last pin available has a slightly duller backing screw than the one imaged. Front conditon, and bacnking markings, are identical.
VINTAGE: Circa 1930
SIZE: Approximately 3/4" in diameter
CONSTRUCTION/MATERIALS: Enameled brass
ATTACHMENT: Single post with screwback and stabilizer pin.
MARKINGS: "WHITEHEAD & HOAG CO. NEWARK, N.J."
ITEM NOTES: This is from an aviation collection which we will be listing more of over the next few months. (2): VCX92 VBX93 LABEX1/16 S(1: VBX93)ABEX1/18 S(2: VCX92)ABEX1/18
CONDITION: 8+ (Excellent): The glider pin shows minor to moderate wear, nearly all of the enamel details remain fully intact, overall excellent condition.
GUARANTEE: As with all my items, this piece is guaranteed original.