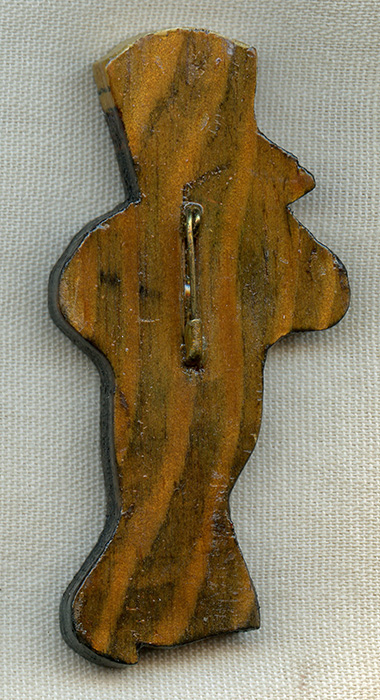 ARTIFACT: Fun, early WWII large patriotic US Navy 'Sailor Girl' wooden pin from Amesbury, Massachusetts. The hand-painted pin is shaped and painted to resemble a female in a Navy uniform and white Navy cap.
VINTAGE: Circa early WWII
SIZE: Approximately 3" x 1-3/8"
CONSTRUCTION/MATERIALS: Hand-painted wood, safety pin, adhesive
ATTACHMENT: Safety pin
MARKINGS: None.
ITEM NOTES: This is from a Home Front collection which we will be listing more of over the next few months. MEX16 LGEX1/17
CONDITION: 7+ (Very Fine+): The pin shows minor wear, spot of varnish loss on brim of hat, overall very fine condition.
GUARANTEE: As with all my items, this piece is guaranteed original.