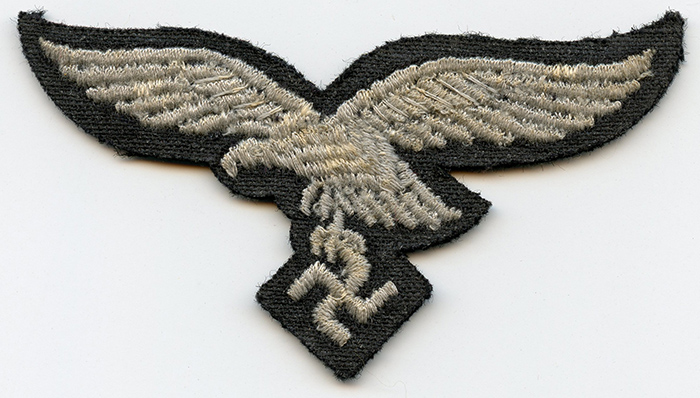 ARTIFACT: WWII Luftwaffe Hermann Goering Division Enlisted Man or NCO Cap Eagle on black wool. The embroidered eagle is depicted with wings spread and clutching a swastika in its talons. This formidable division was named for Göring (by Göring), World War I ace, father of the Sturmabteilung and Gestapo and eventual commander of the Luftwaffe.
VINTAGE: Circa WWII
SIZE: Approximately 2-7/8" x 1-1/2"
CONSTRUCTION/MATERIALS: Embroidered wool felt, cotton/polyester/silk thread, canvas backing
ATTACHMENT: N/A
MARKINGS: None.
ITEM NOTES: This is from a German militaria collection which we will be listing more of over the next few months. VAJX16 LHEX1/17 SHEX2/18
CONDITION: 8+ (Excellent+): The patch shows minor wear and light soiling, overall excellent condition.
GUARANTEE: As with all my items, this piece is guaranteed original.