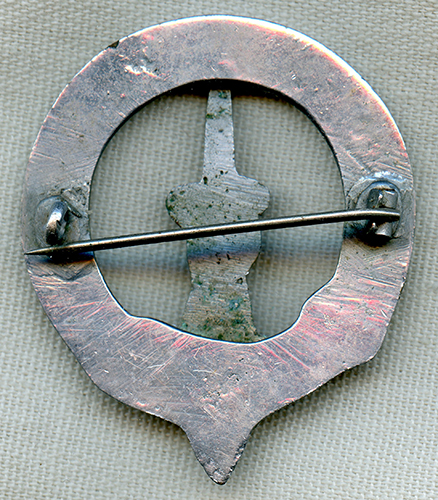 ARTIFACT: This is a circa 1910's-1920's Scottich Clan MacAlister Badge. This is a mid-sized clan badge. Clan MacAlister is the earliest clan to have branched off of Clan Donald, one of the largest Clans. This clan, from the Highlands region of Scotland, has a vast history, dating back to the early 14th century.
VINTAGE: Circa 1920's
SIZE: Approximately 1-3/4" in diameter
CONSTRUCTION/MATERIALS: Chrome plated nickel
ATTACHMENT: Horizontal C-catch pin
MARKINGS: FORTITER
ITEM NOTES: This is from a clan badge collection which we will be listing more of over the next few months. VEX15 LABJX01/17
CONDITION: 7 (Very Fine): There is some wear on this badge, some oxidization on the bottom of the obverse. A bit of the chrome plating has worn off
GUARANTEE: As with all my items, this piece is guaranteed original, and of the period stated.