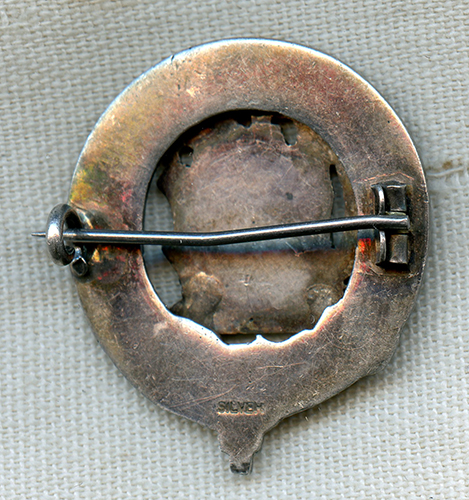 ARTIFACT: This is a lovely little Clan Badge in coin silver for the Clan Watson (yes, as in Sherlock Holmes' assistant, from the right period even!) form the late Victorian period, circa 1900. It shows a wonderful 18th century sailing ship at center in full sail, with the Latin motto AD LITTORA TENDO around the exterior garter.
VINTAGE: Circa 1900
SIZE: Approximately 1-1/4" x 1-1/16".
CONSTRUCTION/MATERIALS: Cast & soldered silver with nickel findings.
ATTACHMENT: "C" type open catch, and "T" Hinge Pin.
MARKINGS: SILVER.
ITEM NOTES: This is from a Scottish Clan Badge collection which we will be listing more of over the next few months. MBJX16 LACEX01/17
CONDITION: 7- (Very Fine-): I am not certain if the badge shows moderate wear, or if the casting details were somewhat muddy from the start. There is a nice patina and the piece shows its age well. Overall very fine- condition.
GUARANTEE: As with all my items, this piece is guaranteed to be original, and of the period stated.