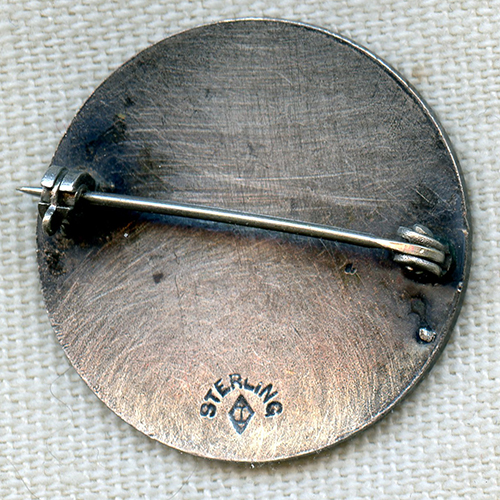 ARTIFACT: This is a circa 1945 Visiting Nurse Service of New York (VNSNY) Lapel Pin in enameled sterling silver. The Visiting Nurse Service of New York is one of the oldest not-for-profit home healthcare agencies in the country, established in 1893. In the 40's, this organization was devoted to home healthcare, mostly for maternal and child health care. With the help of VNSYN the infant mortality rate was cut in half. This was also around the time that physical therapy became a specialty within the VNSNY after adopting the Association for the Aid of Crippled Children into their programs.
VINTAGE: Circa 1945
SIZE: Approximately 7/8" in diameter
CONSTRUCTION/MATERIALS: Enameled sterling silver
ATTACHMENT: Horizontal pin with drop-in locking swivel catch.
MARKINGS: "STERLING"
ITEM NOTES: This is from a VNSNY collection which we will be listing more of over the next few months. MBJZ16 LAGEX01/17
CONDITION: 8 (Excellent-): Minimal to light wear. The enamel is in very good condition.
GUARANTEE: As with all my items, this piece is guaranteed original, and of the period stated.