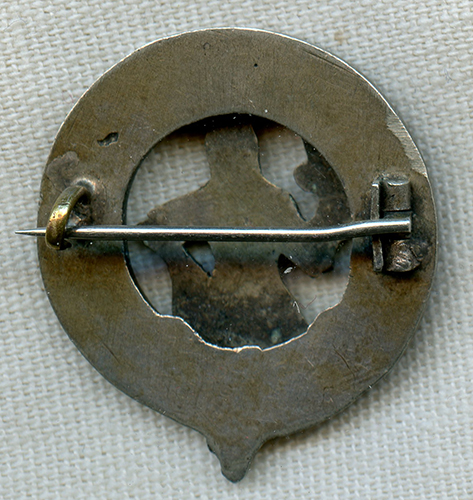 ARTIFACT: This is a beautiful 1900 Scottish Clan Badge for the Clan Elliot. On the badge is one of the family crests, a Demichevalier in complete armor holding in his right hand a sword. Around him reads the Elliot Clan motto, "Pro Rege Et Limite," or "For the King and his dominion."
VINTAGE: Circa 1900
SIZE: Approximately 1-1/8" in diameter
CONSTRUCTION/MATERIALS: Nickel
ATTACHMENT: Horizontal pin with a C-type catch.
MARKINGS: "PRO REGE ET LIMITE"
ITEM NOTES: This is from a Scottish Clan collection which we will be listing more of over the next few months. MBJZ16 LADEX01/17
CONDITION: 8 (Excellent-): A bit of tarnish on the badge, but it was beautifully made for it being nickel and very well kept.
GUARANTEE: As with all my items, this piece is guaranteed original, and of the period stated.