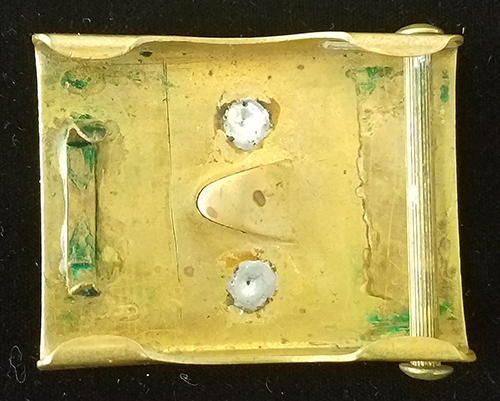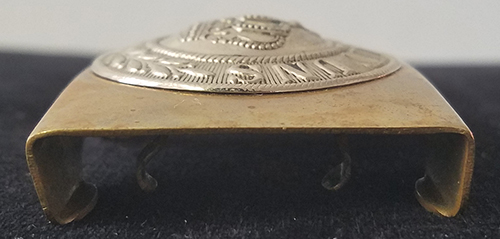 ARTIFACT: This is a scarce WWI Prussian Belt Buckle Variant. This one is Pre-1917 and known as " The American Style." On the buckle is a protruding circle with a crown in the middle surrounded by Laurels and the words "Gott Mit Uns" which translates into "God With Us." This phrase was used in heraldry in Prussia, but was later adopted by the German Nazis and used from the German Empire to the end of the Third Reich in 1945.
VINTAGE: Pre 1917
SIZE: Approximately 2-1/2" Long, ¾" High, 2" Wide.
CONSTRUCTION/MATERIALS: Brass and Nickel
ATTACHMENT: Roller and Boot
MARKINGS: "GOTT MIT UNS"
ITEM NOTES: This is from a Foreign Militaria collection which we will be listing more of over the next few months. VCJX15 LACEX02/17
CONDITION: 8+ (Excellent): The reverse has some tarnish and the obverse has seen light to moderate wear, the emblem shows very little wear.
GUARANTEE: As with all my items, this piece is guaranteed original, and of the period stated.