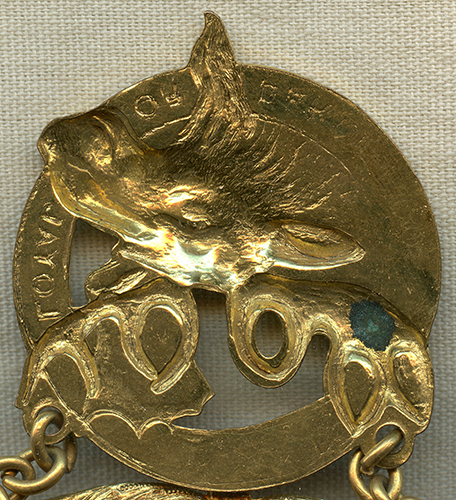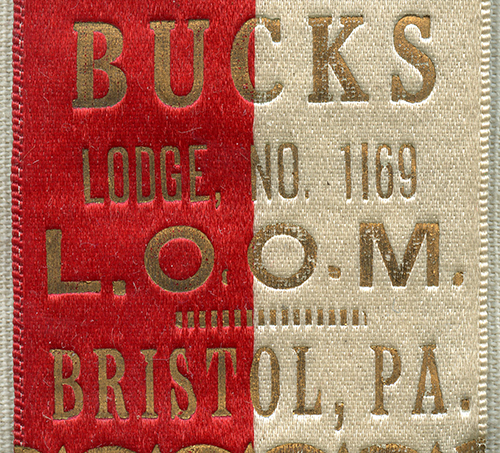 ARTIFACT: This is a 1910's-20's Loyal Order of Moose (LOOM) Parade Ribbon from Bucks Lodge No. 1169 of Bristol, PA. The top of the ribbon has a banner that reads, "Purity and Progress," the motto of The Loyal Order of Moose.
VINTAGE: Circa 1910's-20's
SIZE: Approximately 7" x 1-3/4"
CONSTRUCTION/MATERIALS: Silk, Bullion, Enameled Gold plated Brass.
ATTACHMENT: Chain Links, Horizontal pin with Over-under catch.
MARKINGS: Pin: "PURITY AND PROGRESS. P.A.P. LOYAL ORDER OF MOOSE." Ribbon Obverse: "BUCKS LODGE NO. 1169 L.O.O.M. BRISTOL, PA." Ribbon Reverse: Same as Ribbon Obverse.
ITEM NOTES: This is from a Loyal Order of Moose collection which we will be listing more of over the next few months. MAJZ15 LFEX02/17
CONDITION: 8+ (Excellent): The ribbon's holding pin is broken and missing, but everything else is in Excellent condition.
GUARANTEE: As with all my items, this piece is guaranteed original, and of the period stated.