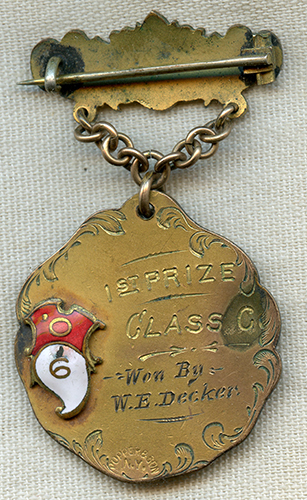 ARTIFACT: This is a 1906 Shooting Medal from the Electric City Rifle Club of Scranton, PA. This was rewarded to the 1st prize winner of the Class C competition, presented to one W.E Decker. On the front is an enameled target with a blue belt lining the outside. The back states the name of the person it was presented to (W.E. Decker), the class in which the competition was held (Class C), and the place that was won (1st Place).
VINTAGE: Circa 1906
SIZE: Approximately 2-3/8" x 1-1/4"
CONSTRUCTION/MATERIALS: Gilt and Enameled Brass
ATTACHMENT: Horizontal T-pin with a C-catch
MARKINGS: Obverse: "ELECTRIC. CITY. RIFLE. CLUB." Reverse: "1ST PRIZE. CLASS C. WON BY: W.E.DECKER. '06."
ITEM NOTES: This is from a Rifle Club collection which we will be listing more of over the next few months. VAM17 LAAEX02/17
CONDITION: 8 (Very Fine-Excellent): The medal has amazing patina and very little wear, the enamel is slightly scratched, but otherwise vibrant.
GUARANTEE: As with all my items, this piece is guaranteed original, and of the period stated.