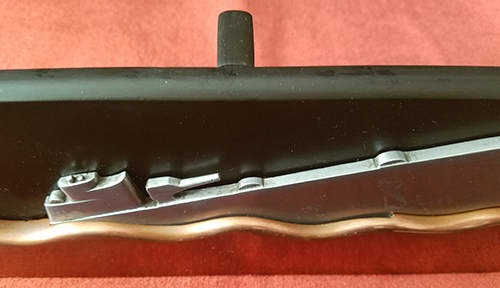 ARTIFACT: This is Wonderful WWII submarine dash board plaque. This was found in france and it is made beautifully out of copper, aluminum, and bakelite (A heavy, early plastic that is very durable. Early Billiard balls were made out of Bakelite.). The plaque has a submarine emerging from copper waves on it, and while it lacks a great amount of detail, the style of it is stunning.
VINTAGE: Circa WWII
SIZE: Approximately 12-1/2" x 3" x 3-1/2"
CONSTRUCTION/MATERIALS: Copper, aluminum, and Bakelite.
ATTACHMENT: None
MARKINGS: None
ITEM NOTES: This is from a French Navy collection which we will be listing more of over the next few months. MADEV17 LDGEX03/17
CONDITION: 8 (Excellent-): There are some scratches namely on the copper and the reverse of the bakelite. Some staining and tarnish on the metal.
GUARANTEE: As with all my items, this piece is guaranteed original, and of the period stated.