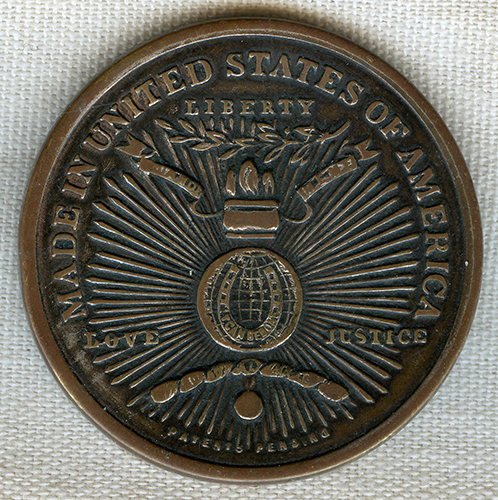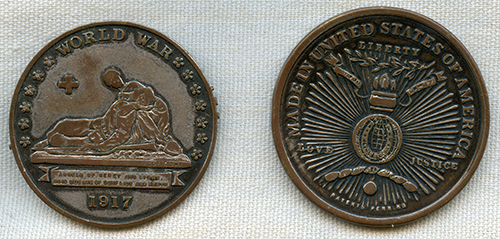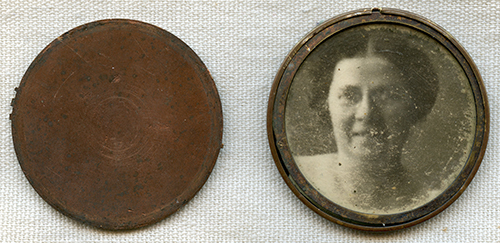 ARTIFACT: This is an amazing World War I Pocket Locket/ Good Luck Charm. It is meant to look like a Dollar coin, but the obverse turns and opens to reveal a picture of A Red Cross Nurse's mother. One side shows a Nurse, or an ARC / American Red Cross Nurse aiding a soldier. Below this image is a slightly modified version of the tribute given to Nurses since the Civil War: "ANGELS OF MERCY AND LIFE AMID SCENES OF CONFLICT AND DEATH (the phrase on the Locket reads: ANGELS OF MERCY AND LIGHT AMID SCENES OF CONFLICT AND DEATH)." On the "Obverse", the face of the "Coin" can be turned, so the little nib at the lowest left star on the "Coin" will line up with a small divot in the inner edge of the Coin, allowing a light slap on the palm to open up the locket to reveal the picture.
VINTAGE: Circa WWI
SIZE: Approximately 1-1/2" in diameter
CONSTRUCTION/MATERIALS: Bronze
ATTACHMENT: None
MARKINGS: "WORLD WAR. ANGELS OF MERCY AND LIGHT AMID SCENES OF CONFLICT AND DEATH. 1917" "MADE IN UNITED STATES OF AMERICA. LIBERTY. LOVE. JUSTICE. PATENT PENDING."
ITEM NOTES: This is from an American Red Cross collection which we will be listing more of over the next few months. MEJX17 LBCEX03/17 SAGEX11/17
CONDITION: 7- (Very Fine-): There is moderate wear and tarnish. The words are worn down. On both the obverse and reverse.
GUARANTEE: As with all my items, this piece is guaranteed original, and of the period stated.