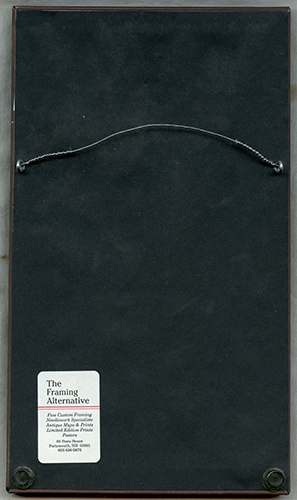 ARTIFACT: This is a great late 19th Century Portsmouth coffee bag which is very nicely framed in an Art Nouveau style.
VINTAGE: Late 19th Century
SIZE: Appr. 10-5/8" x 6-3/8" x 3/4"
CONSTRUCTION/MATERIALS: Wood, glass, paper, ink.
ATTACHMENT: None
MARKINGS: "ROYAL PURPLE BRAND. THE FINEST OF HIGH GRADE COFFEES. H.P. PAYNE PORTSMOUTH, N.H."
ITEM NOTES: This is from a Portsmouth, N.H. collection which we will be listing more of over the next few months. CON-RLB-17 LAAEX4/17
CONDITION: 7+ (Very Fine+): It has light wear and dirt imbedded into the paper.
GUARANTEE: As with all my items, this piece is guaranteed original.