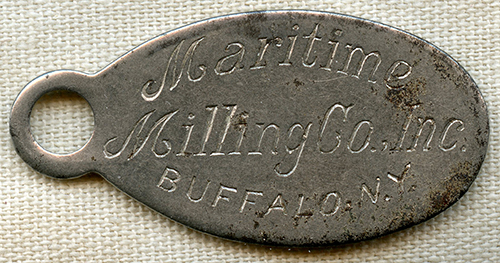 ARTIFACT: This is a great 1910's advertisement key fob for Bull Brand Feeds from Maritime Milling Co, Buffalo, New York.
VINTAGE: Circa 1910's
SIZE: About 13/16" x 1-5/8"
CONSTRUCTION/MATERIALS: Nickel Plated Steel.
ATTACHMENT: None
MARKINGS: "BULL BRAND FEEDS. BB. DAIRY-STOCK-POULTRY. MARITIME MILLING CO., INC. BUFFALO, N.Y."
ITEM NOTES: This is from an Advertising collection which we will be listing more of over the next few months. VAJX17 LFJX4/17
CONDITION: 7- (Very Fine-): Some of the plating is stripped, but it does not take away too much from the overall condition of the piece.
GUARANTEE: As with all my items, this piece is guaranteed original.