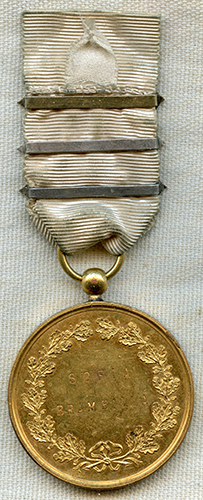 ARTIFACT: This is a beautiful circa 1910 Italian Medal from the Institute of the Most Holy Annunciation in Florence. This was an all women's school that was founded in the early 1800's that still exists to this day. It is known to be a very prestigious institute. This medal is named to the original recipient, Sofia Brambilla with three award bars for 1907-08, 1908-09, 1909-10.
VINTAGE: Circa 1910
SIZE: Size 3-1/4" x 1-5/16"
CONSTRUCTION/MATERIALS: Gilt Brass, Silvered Brass, Silk
ATTACHMENT: Chain Link
MARKINGS: "1909-10. 1908-909. 1907-908. REALE ISTITUTODELLA SS. ANUNZIATA. AL MERITO. SOFIA BRAMBILLA."
ITEM NOTES: This is from a University collection which we will be listing more of over the next few months. LAFEX5/17
CONDITION: 8+ (Excellent): The silk is dirtied, but the medal is in overall excellent condition.
GUARANTEE: As with all my items, this piece is guaranteed original.