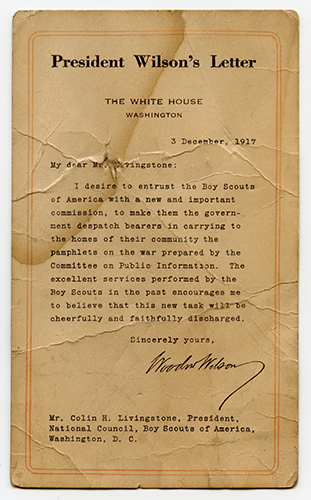 ARTIFACT: This is an extremely rare World War I Boy Scouts of America Dispatch bearer ID card. This is a sort of propaganda campaign, in which The Boy Scouts of America would spread information on the war to their communities. This card is jointly recognized by the Boy Scouts of America and the Committee on Public Information. It is dated for January 21, 1918 and is from troop 1 of Wolfboro, NH. For more information on this campaign, please visit http://www.acad.carleton.edu/curricular/hist/classes/Hist121/boyscout.html.
VINTAGE: Circa WWI
SIZE: Appr: 5" x 3"
CONSTRUCTION/MATERIALS: Paper, Ink
ATTACHMENT: None
MARKINGS: See attached images
ITEM NOTES: This is from a Boy Scouts collection which we will be listing more of over the next few months. MAEX17 LBDEX7/17
CONDITION: 6- (Fine): Folds in the paper, as well as a small hole in the center 3-1/2." There is also some staining on the top right corner.
GUARANTEE: As with all my items, this piece is guaranteed original.