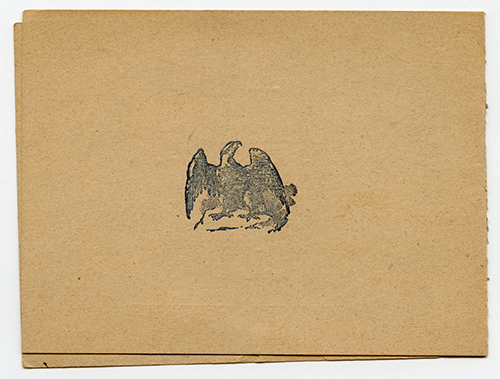 ARTIFACT: This is a great early 1930's "Sand Pebbles" Era, US Asiatic Fleet in China Christmas card from Tsingtao. The front of the card has two crossed flags and under them reads "MAY HEALTH AND HAPPINESS BE YOUS OF CHRISTMAS AND THROUGH OUT THE NEW YEAR. U. S. ASIATIC FLEET." The inside of the card has a nice poem, "O'ER SEA AND LAND O'ER VALLEY AND HILL. O'ER WIND SWEPT MOOR AND FROZEN RILL. WARM FROM A HEART THAT'S FOND AND TRUE. MY CHRISTMAS GREETING FLIES TO YOU."
VINTAGE: Circa 1930's`
SIZE: Appr: 5-1/16" x 3-7/8"
MATERIALS / CONSTRUCTION: Paper and Ink
ATTACHMENT: None
MARKINGS: None
ITEM NOTES: This is from a Christmas Card collection which we will be listing more of over the next few months. MBJZ17 LBCEX8/17
CONDITION: 7 (Very Fine): The card is very fragile due to it's age and materials.
GUARANTEE: As with all my items, this piece is guaranteed original.