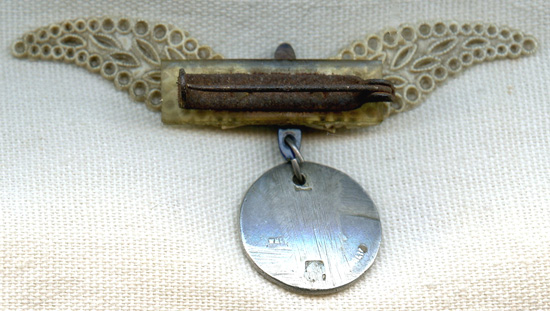 ARTIFACT: This is a wonderful and unique piece: a silver level lapel pin for wartime service in the Manhattan Project attached to a United Stated Army Air Forces sweetheart wing. "Manhattan Project" was the codename for the combined effort of the United States Army Corps of Engineers, along with Britain and Canada, to produce the first atomic bomb. Attaching the pin to the wing would have denoted that it was worn by a female worker in the Aviation Area of the Project. The pin is by Whitehead & Hoag reads A BOMB at center. The wing has a lacy design in plastic with a winged propeller at its center.
VINTAGE: Circa World War II.
SIZE: Wing: approximately ½" in height and 2-5/8" in width; Manhattan Project pin: approximately 11/16" in diameter.
CONSTRUCTION/MATERIALS: Sterling silver, plastic/resin.
ATTACHMENT: Horizontal pin on bar with C catch, suspension ring (pin-back removed from pin).
MARKINGS: WHITEHEAD-HOAG STERLING on reverse of pin (mostly unreadable).
ITEM NOTES: This is from a United States Army collection which we will be listing more of over the next few months. VFEX12 LBGEX9/12 SBGEX1/15
CONDITION: 7+ (Very Fine+): The pin shows only light wear; the wing has some minor aging and some rust on the pin-back.
GUARANTEE: As with all my items, this piece is guaranteed original.