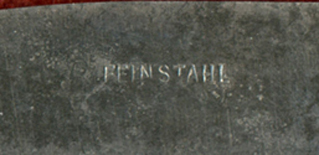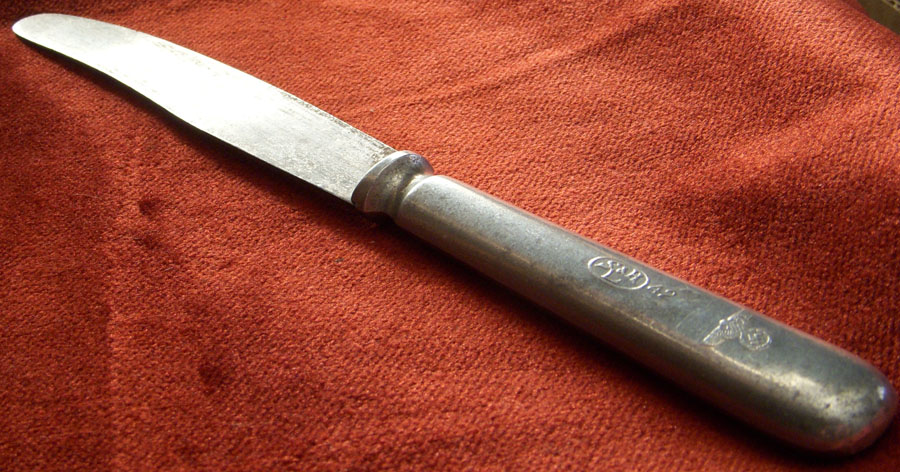 ARTIFACT: This is a 1942 dated silverware table knife for NSDAP, or Nationalsozialistische Deutsche Arbeiterpart (National Socialist German Workers'or Nazi Party), a political party organization. The knife was made by S&HL and is marked as such on the handle. The handle also bears a small raised eagle and wreathed swastika mark.
VINTAGE: Circa World War II.
SIZE: Approximately 13/16" in width and 9-1/8" in length.
CONSTRUCTION/MATERIALS: Steel.
ATTACHMENT: None.
MARKINGS: S&HL within an oval, 42, eagle with wreathed swastika on front; FEINSTAHL (fine steel) on reverse of blade.
ITEM NOTES: The knife you receive will either be this exact one or one in similar condition. This is from a Nazi Germany collection which we will be listing more of over the next few months. CON-DB-25-12 LADEX12/12
CONDITION: 7 (Very Fine): The knife shows spots of minor wear and moderate tarinshing.
GUARANTEE: As with all my items, this piece is guaranteed original.